Thank you for contacting Northbay Roofing & Gutter Co., a representative will contact you shortly.
Why Us?
Northbay Roofing & Gutters isn't your traditional roofing and gutters services provider. We have a unique and compelling process that is based on respect, education, sustainability, and helping you, the client, get the maximum return on your investment.
We understand that this is an important decision for you and your family. We believe it's extremely important that you understand the roofing and gutter system repair or replacement process in simple down-to-earth terms. All things in this market aren't equal. Each proposal we submit has value associated with each aspect of it. From the service to the materials used we have an inherent belief that you should benefit from every aspect of the project.
We help our clients with obtaining PACE - Property Assessed Clean Energy financing. This requires no documentation and is based on the property itself, not the borrower. These Title 24 programs help reduce energy dependence, and provide tax benefits, rebates, and incentives for doing energy-efficient improvements such as a "Cool Roof". This is paid through your property taxes. We'll help you go green!
We use only American-made products from the oldest and only American-made roofing products manufacturer in the world, GAF. They created the shingle. This creates jobs for Americans. Just think if all contractors bought and used American-made products it would create over 200,000 new jobs for Americans.
We are a local family-oriented and owned company for over 20 years. The national average life span for a roofing company is less than 3 years!
We support our community and its residents in everything we do. From recycling the debris, we take off your premises to specialized programs for Veterans (Roofs for Troops program). We offer special programs for seniors, the disabled, and the First Responder community such as firemen, police officers, and EMTs.
We invest and believe in our amazing employees. We fully screen and handpick the crews who will be working on your property. We have an unprecedented safety record on all our projects. We have a dedicated customer success team to help ensure complete and utter satisfaction with every step of the process from inquiry to the end of your project and beyond, we are here to help.
We also help you understand the things you should look for in a qualified roofing and gutter company when you're selecting providers for this investment to ensure quality, safety, ethics, and respect for your family.
Whether a simple gutter cleaning, roof maintenance, or roof or gutter replacement, big or small, we treat every project the same. Allow us to show you we are changing the way the game is played and earn your respect and business.
Staff Bios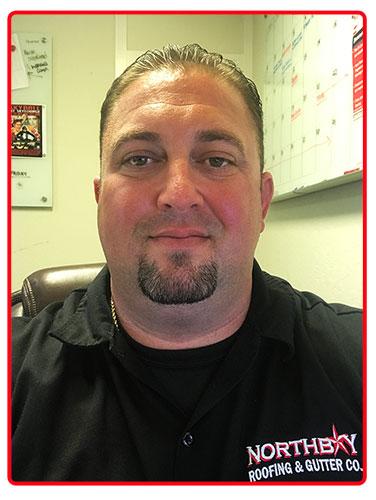 Damien
President and CEO
Damien founded and built Northbay from the ground up. Starting as a high school student doing gutter cleaning he grew the business into what is now a highly successful and respected family-owned local company. His business supports many employees, their families, and local businesses.
Damien is a family man who enjoys his off-time with his wife and son. He is an avid motorcycle enthusiast and gets sincere joy out of helping all people he encounters.
He is a native resident of Sonoma County who helps stimulate local economic growth and sustainability for the good of his community.
Felicia
Felicia has contributed to Northbay Roofing in one way or another since its early stages. She helped lightly in the background as the business first got started and then entered into a more permanent roll with the company many years later. She brings with her over 15 years of experience in Construction Management with a focus on roofing and waterproofing.In her time off she enjoys cooking for her family and trying new foods, spending time in her garden, and exploring new campgrounds with her husband and son whenever they get the chance.
---
John
John has been with Northbay Roofing for over a decade, joining our company in 2010. Since then, he has risen to the rank of Vice President and Lead Estimator of the company. Originally a Pacifica native, he boasts over 30 years (and counting) of roofing and gutter experience. When he's not meeting with clients or helping the crew, he can be found riding the California coastline on one of his many motorcycles.
---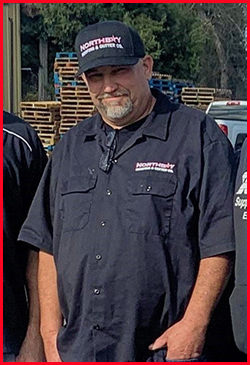 Duane
Duane is our most recent estimator to join Northbay Roofing, starting with the company in 2019. With over 30 years of roofing experience under his belt, he has proven to be an asset to the company, and we are happy to welcome him aboard. Born and raised in Petaluma he has stated he can't imagine living anywhere else. Outside of his estimate appointments, you can catch him making left turns at the Petaluma speedway or riding his Harley Davidson. Wherever you see him, you'll often find his friendly dog following close behind.
---
Kaitlyn
Kaitlyn has been an asset to Northbay Roofing's main office since joining us in 2017. Since her start, she has climbed her way to the top and is currently our Office Manager. Kaitlyn is a born and raised Sonoma County resident and received accolades through Empire College. She and her fiance are first-time parents to a beautiful baby girl and usually spend their free hours on Lake Sonoma when the weather is right.
---
Bianca
Bianca joined our Northbay Roofing family in 2018 and is a valued member of our office staff. Born in Santa Rosa, she returned to Sonoma County after completing schooling in Southern California. Since having her with us, she and her fiance have become first-time homeowners, spending most of their free time playing with their two dogs or gaming online.
---