RainMover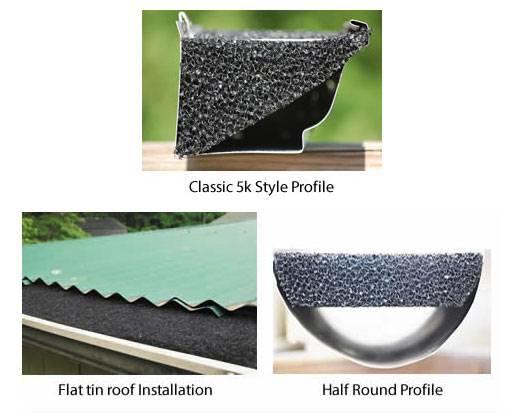 A PREFERRED CHOICE OF PROFESSIONAL GUTTER FILTER CONTRACTORS
RainMover Foam Filter Insert prevents leaves and large debris from entering and clogging gutters while allowing all the rainwater to flow through rapidly.
RainMover is easy to install, comes in many different sizes, and consistently proves that it is favored by contractors and home owners alike for its durability, efficiency and long life.
This simple and innovative concept has been a huge success with professionals and homeowners for over twelve years now. They have produced superior, quality gutter filters every day since the very beginning and contractors have been using RainMover for many years with great success.
RainMover, Durable Protection
It is the best, most durable, foam filter available on the market today, simply because it is protected by a thoroughly applied coating. What does that mean? How does it compare to other foam filters on the market?
There are no half measures taken with the manufacturing process of RainMover. They start with the best quality foam, then saturated it in a heavy latex coating including a flame retardant, a germicide and a UV stabilizer. It is then squeezed to remove the excess coating and baked at high temperatures until the coating fuses with the fibers of the foam. This ensures stability, durability and long life.
Big-box gutter filter products are top coated only, which leaves about 90% of the foam unprotected (foam will quickly become brittle and disintegrate if left uncoated in an outdoor environment). The surface coating hides the oxidation and deterioration of the foam within the gutter.
RainMover, Winter Protection
With a 95% void capability and its heat absorbing ability; it helps reduce the effects of snow and ice on the gutter. When snow melts into the gutter, it filters through and continues to flow through the system. An important Ice Feature of RainMover is that it prevents your gutters from becoming the heavy ice filled anchor that can pull the gutters off the house. It also can reduce the quantity of ice that builds up on the roof, thus helping to eliminate costly roof damage due to ice damage.
RainMover, Mosquito Protection
The open gutter is a notorious haven for mosquitoes to live and breed. It is a difficult place for a home owner to keep clean. The result is usually that gutters are clogged, partially clogged, and full of debris and happy mosquitoes. RainMover can eliminate mosquitoes and a multitude of other bugs from breeding in the gutter. While keeping the gutter clean and the homeowner safely on the ground.
RainMover demonstrates the highest degree of consistency and effectiveness in the industry and is backed by a
15 year No Clog warranty.
Profile Availability and Installation
RainMover is available in all of the common gutter profiles. There are also a wide variety of custom profiles for industrial, commercial, or unique projects.
Because RainMover is attached only to the gutter it can be used with equal ease on any roof type from shingle, metal, tile, slate, or even onto gutters attached to flat roofs.
Go Back